Primary hyperoxaluria type 1 (PH1) is a rare, progressive, and life-threatening disease1,2
Image
Image
Oxalate is continuously overproduced in PH15,6
Mutations in the alanine glyoxylate aminotransferase (AGXT) gene impair the function of the liver enzyme alanine:glyoxylate aminotransferase (AGT).1,6
PH1: a metabolic defect in the liver leads to oxalate overproduction1,6
Image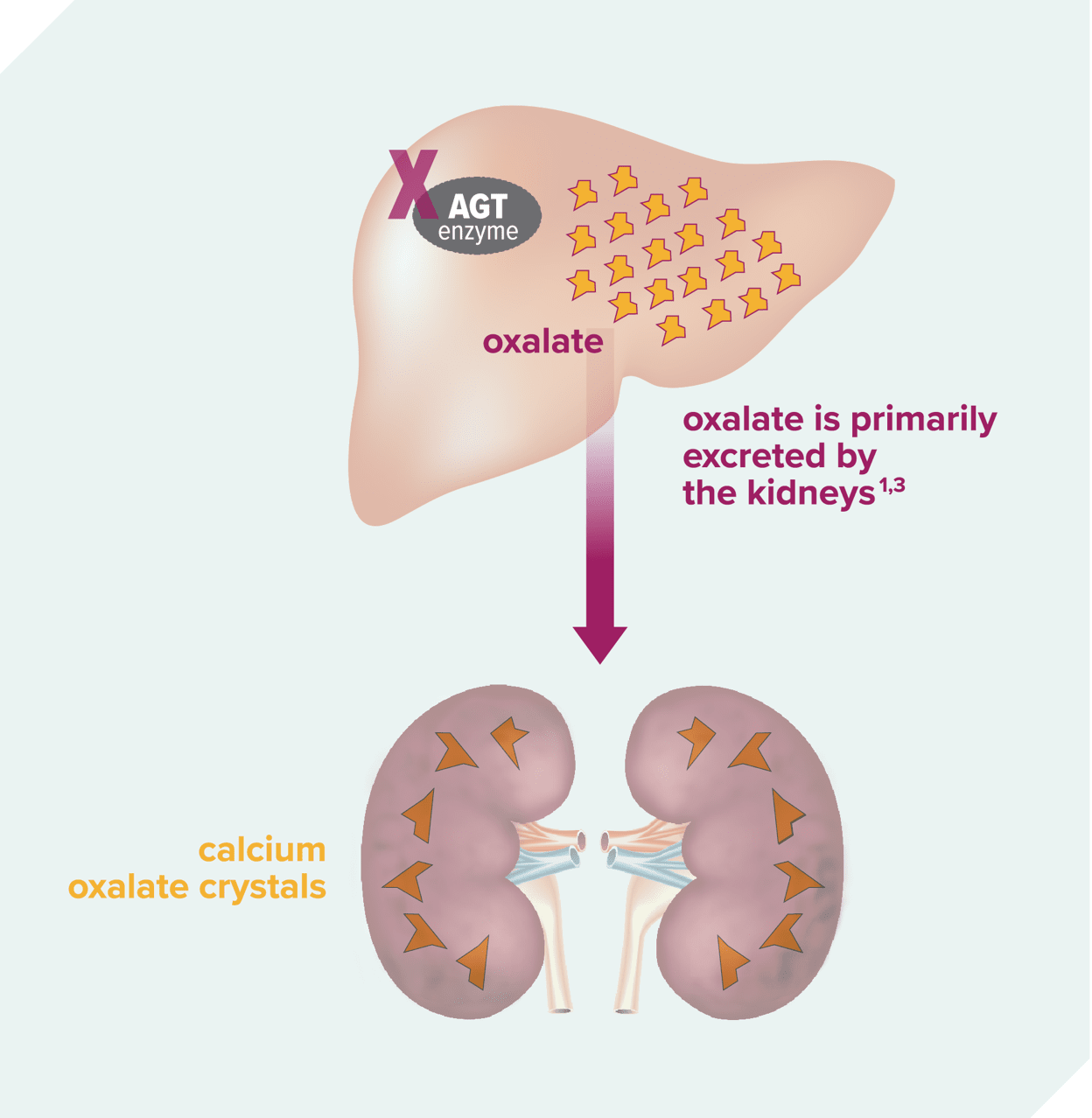 AGT function is impaired1,6
Oxalate is continuously overproduced as a result5,6
Excess oxalate damages the kidneys1,3
Oxalate forms calcium oxalate crystals1,3
Crystals can form stones or be deposited into the kidneys, leading to nephrocalcinosis1,3
PH1 is the most common type of PH and is frequently underdiagnosed, especially in adults2,3
Image
Diagnostic Delays can lead to life-threatening complications7,8
Image
5.5 Years9the median delay between clinical onset and diagnosis in adults
Image
Up to 50% of adults are diagnosed following progression to end-stage kidney disease (ESKD)10
Image
~ 10% of diagnoses are made after a kidney transplantation, upon recurrence of clinical manifestations10
Recognize PH1 when you see it
Knowing the signs and symptoms of primary hyperoxaluria type 1 (PH1) is the first step to making a diagnosis.
Clinical manifestations are a result of continuous oxalate overproduction3,4:
Signs and Symptoms of PH1*
Image
Kidney stones (nephrolithiasis) Recurrent, multiple, bilateral, and/or large stones in adults, or any stone in children. Not all patients with PH1 are stone formers; however, kidney stones are the most common symptoms.1,3,4,10
Image
NephrocalcinosisDiffuse calcification in the renal parenchyma.1,3,4,10
Image
Impaired kidney function Progressive decline toward end-stage kidney disease.†,3,4
Image
Systemic oxalosis Deposition of oxalate in various extrarenal tissues can occur as kidney function declines.3,10
Image
Failure to thrive (pediatrics only)Impaired physical growth in infancy or early childhood, often as a result of impaired kidney function.10
These are not all the signs and symptoms of PH1, and not all patients exhibit them at the same time.
Estimated glomerular filtration rate (eGFR) below 30-40ml/min/1.73m².
Severe complications may occur when the kidneys become unable to effectively excrete oxalate*,†,1,2
Systemic oxalosis may lead to the following11:
Image
BONE
DISORDERS
Image
CUTANEOUS
AND VASCULAR
MANIFESTATIONS
Image
CARDIAC
MANIFESTATIONS
Image
OPTHALMOLOGIC
MANIFESTATIONS
Image
NEUROLOGIC
MANIFESTATIONS
Typically starting at chronic kidney disease stage 3b; eGFR 30-45 mL/min/1.73 m2
These are not all the possible complications that may occur.
Metabolic and genetic testing may help with diagnosing PH16:
The AUA guidelines and literature suggest these common methods of testing:
Image
Image
Image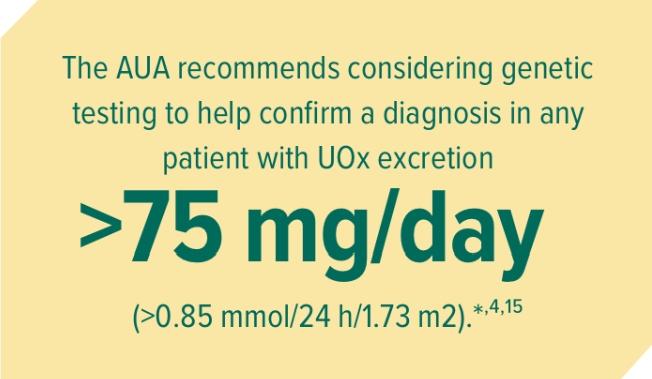 AUA, American Urological Association; UOx, urinary oxalate.
* In adults without bowel dysfunction.14
This testing information is provided for educational and reference purposes only. It is not intended to replace the independent medical judgment of any healthcare professional.
Image
WANT TO SPEAK WITH AN OXLUMO REPRESENTATIVE?
Our representatives are available to provide detailed information about OXLUMO and how it may help your patients with PH1.
Image
There's always more to learn about PH1
When you sign up, we will keep you informed with updates and resources.
Image
Alnylam Assist™ provides support services for your patients throughout their treatment with OXLUMO.
Alnylam Assist™ includes patient services in key areas, including understanding insurance benefits and financial assistance options, helping ensure access to therapy, and providing PH1 disease education.
1. Milliner DS, Harris PC, Sas DJ, et al. GeneReviews®. University of Washington, Seattle; 1993-2022. 2. Hopp K, Cogal AG, Bergstralh EJ, et al. J Am Soc Nephrol. 2015;26(10):2559-2570. 3. Hoppe B, Beck BB, Milliner DS. Kidney Int. 2009;75(12):1264-1271. 4. Hoppe B. Nat Rev Nephrol. 2012;8(8):467-475. 5. Cochat P, Rumsby G. N Engl J Med. 2013;369(7):649-658. 6. Cochat P, Hulton SA, Acquaviva C, et al. Nephrol Dial Transplant. 2012;27(5):1729-1736. 7. Bhasin B, Ürekli HM, Atta MG. World J Nephrol. 2015;4(2):235-244. 8. El-Reshaid K, Al-Bader D, Madda JP. Saudi J Kidney Dis Transpl. 2016;27(3):606-609. 9. van der Hoeven SM, van Woerden CS, Groothoff JW. Nephrol Dial Transplant. 2012;27(10):3855-3862. 10. Cochat P, Rumsby G. N Engl J Med. 2013;369(7):649-658. 11. Garrelfs SF, Oosterveld MJ, Hulton S, et al. Ped Nephrol. 2017;32:1643-1834. doi:10.1007/s00467-017-3753-x. 12. Zhao F, Bergstralh EJ, Mehta RA, et al. Clin J Am Soc Nephrol. 2016;11(1):119-126. 13. Mayo Clinic Laboratories. Accessed January 6, 2023. https://www.mayocliniclabs.com/test-catalog/download-setup.php?format=pdf&unit_code=606472 14. Pearle MS, Goldfarb DS, Assimos DG, et al. J Urol. 2014;192(2):316-324. 15. OXLUMO [package insert]. Cambridge, MA: Alnylam Pharmaceuticals, Inc.